Have you ever wondered about doing school visits as a kid's book creator? How to get them, or how to get more of them? What to do in them?
This totally self-paced course will give you the steps, the tactics, the confidence to get you doing lots of amazing visits!
YOU will be creating YOUR plan based on YOUR strengths and weaknesses, YOUR books, and YOUR target age group!
By the end of the course, you'll know:
WHY it's important for authors and illustrators to do school visits, and what YOUR why is;
HOW TO GET more school visits;
WHAT TO DO when you're in there (including planning actual visit sessions!);
WHAT YOU MUST DO before your visit;
THE IMPORTANT NUMBERS including - among other things - pricing, group sizes, session lengths;
HOW TO GET MEGA BOOK SALES;
TIPS AND TRICKS to help your visit run more smoothly and more!
Use my ten years and over 500 schools worth of experience and watch it in four hours of videos ... well, it will take you a bit longer than that once you do all the homework and activities! And, in the end, that's where the magic lies, in the doing! Plus, you may even get a gold star if you do all the work!
Check out your curriculum!
(Total video time: 4 hours and 2 minutes - The first four videos are available to preview for free)
Do it at your own pace and in your own time.
From happy creatives!
"Highly recommended! In this series of videos, Adam covers all aspects of doing paid author (or illustrator) visits in schools ... The course is full of practical tips and exercises and is a great confidence-booster." ~ Amelia McInerney
"Brilliant stuff!" ~ Michael Wagner
"I have been doing school visits for eight years, and I still learnt so much from doing Adam's course. I would highly recommend this course not only to creatives starting out with school visits, but those already in the trenches in order to fluff up their nest of knowledge." ~ Michelle Worthington
"... as well as being very informative, Adam's gorgeous energy shines through and you want to hear what he is going to say next. 10 gold stars!" ~ Kelly McDonald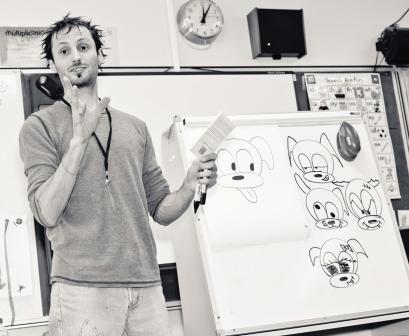 Hi, I'm Adam Wallace ... you can call me Wally!
I'm SO excited to be here, and am SO excited you're taking the plunge into inspiring kids and building a creative career! I've done over 500 school and library visits and can tell you doing them is amazing and exciting and tiring and incredible!
I worked my way through over 200 rejections to become a full-time author, and that was mostly possible on the back of my school visits, and now I'm here to pass on my wins, losses and learnings to you!
If you want to see more about me or my books, you can check that out at www.adam-wallace-books.com
"Warning: Be prepared for a lot of silliness and fun!" Grade 1/2 teacher, Auburn P.S.
Check it out! You can get all the KBCC courses for one low price!
FREQUENTLY ASKED QUESTIONS
DO YOU HAVE A DOG?
Yep, you will frequently get asked this at schools.
SHOULD YOU WATCH THE VIDEOS IN ORDER?
You don't have to ... but I recommend you do. Why? Because each video leads into the next and it all leads into Section 8, where you create an actual visit session. If you've done the videos in order, you will have most of the info ready to drop into the session template provided. So it just makes it easier!
WHO IS THIS COURSE FOR?
This course is aimed at kid's book creators who want to further their career, who want to generate an income from their creative talent, and who want to entertain and inspire as many children as possible.
CAN I EMAIL ADAM WALLACE AT ANY TIME AND ASK HIM A QUESTION?
Yes. Yes you can.
His email address is [email protected]